This salad is great for a busy worknight supper as it only takes minutes to prepare.
Serves 4
4 skinless chicken breasts
1 tablespoon olive oil
1 large ripe avocado, peeled and pit removed (or 2 smaller avocados)
1 green apple, chopped into small cubes
55g red seedless grapes, halved
2 tablespoons walnuts, chopped
2 tablespoons dried cranberries or raisins
A handful of coriander, finely chopped
Juice of 1 lime
Sea salt, to taste
2 little gems, leaves separated
Tip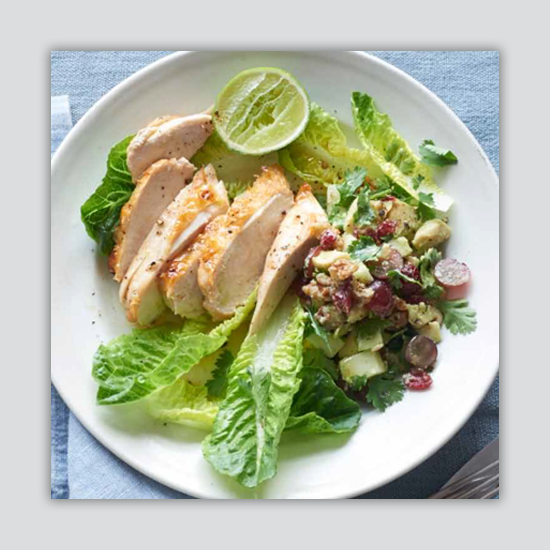 Instructions
1. Heat the grill to medium. Rub the chicken all over with a little olive oil and grill for 4?5 minutes on each side until lightly charred and cooked through.
2. Place the avocado in a large bowl and mash to a chunky/ creamy consistency with a squeeze of lime.
3. Place the apple, grapes, walnuts, cranberries or raisins, and coriander in a bowl and toss to combine. Add the lime juice and the salt to taste and toss again.
4. Place a few lettuce leaves on each plate and spoon over the fruit and nut mix. Serve with the chicken (sliced if you prefer) and a large spoonful of creamy avocado on the side.