DESIGNING MENUS FOR CATHAY PACIFIC
Since 2016 Daniel has been designing menus for Cathay Pacific…
DANIEL'S KITCHEN AT SHOPHQ
Arising from the successful track record from Daniel's hosted sessions of luxury cookware and kitchenware on ShopHQ, a dedicated program Daniel's Kitchen at ShopHQ was inaugurated in November 2011. This program is hosted by Daniel and showcasing Daniel's healthy recipes which are easy-to-do using cookware and kitchenware sold on ShopHQ.
"GREEN'S TWISTS" – DANIEL'S BRANDED SPECIALITY PRODUCTS
Safe-to-use functional healthy gourmet cookware to "All Natural" gourmet foods (Extra Virgin Olive Oil, Wine-based Vinaigrettes, Quickcook spices, Asian Sauces, Gluten Free Jams and Organic Noodles) will be soon be available in premium high-fashion lifestyle stores in various cities in the US, Asia and Australia, March 2012.
DANIEL GREEN AND PAULA DEEN ON FOOD NETWORK US
Celebrity Chef Daniel was part of the most popular TV cook show in the US – Paula's Best Dishes on Food Network. Food Network star, Paula Deen is America's favorite southern cook, a restauranteur, author, actress and Emmy Award-winning television personality. She is truly a self-made success story who began with a small catering business and today is a cultural phenomenon in the US. Paula's recipes faced some criticism for the high amount of fat, salt and sugar and ironically, healthy eating advocate, Daniel Green was invited to share his philosophy and to create healthier versions to those dishes. This program was released in the Fall of 2011. Food Network is a television specialty channel about food and cooking which is seen by more than 90 million households.
DUSIT "EAT WELL, FELL WELL" PROGRAM WITH CHEF DANIEL GREEN
Exclusively for Dusit International of Thailand, Daniel designs and showcases his healthy cuisines on All-Day-Dining and In-Room Dining menu which is available for guests at all Dusit hotels and resorts around the world. The program, "Eat Well, Feel Well" connotes a lifestyle that embraces tasty food with a creative presentation that happens to be healthy and at the same time, delivers an everyday enjoyable experience with families and friends.
Dusit International is one of the world's most valued hospitality brands with over 60 years experience in the industry. Currently, Dusit has 22 hotels located across Asia and Middle East and has 7 new hotels opening under way. Today, Dusit has led Thai hospitality to become one of the world's most admired and respected hotels, encompassing five distinguished hotel groups: Dusit Thani, Dusit Devarana, dusitD2, Dusit Princess, and Dusit Residence. The collaboration with Chef Daniel Green will provide Dusit's guests alternative choices of cuisine and a chance to make a difference to a better lifestyle.
PRESIDENT CHEESE, LACTALIS DELI, INC US
As a food consultant to Président Cheese, one of the world's premiere cheese makers and the No. 1 brand of brie in France, Daniel hosted the website www.greatcheese.com/skinny where he exclusively created 30 healthy eating recipes using President Feta Cheese. In June 2010, this e-book debuted in Houston, Texas at the industry renowned International Dairy-Deli-Bake Seminar & Expo. It is the US's largest show for diary, deli, bakery and foodservice professionals and a must visit expo and seminar for the industry buyers and retailers around the world.
US'S LARGEST TRAVEL CHANEL PROGRAM – BIZARRE FOODS WITH ANDREW ZIMMER
Daniel co-hosted US's largest Travel Channel program Bizarre Foods with Andrew Zimmern (www.travelchannel.com) which has a media penetration of more than 95 million US cable homes. This program was filmed in Bangkok, Thailand. This is a part of the all new series of Bizarre Foods.
DANIEL GREEN'S TWENTY-FOUR 30 MINUTE HEALTHFUL COOKING TV EPISODES BROADCAST IN 6 ASIAN CITIES – SINGAPORE, INDONESIA, TAIWAN, MALAYSIA, BRUNIE AND HONG KONG
From August 2009, twenty-four 30-minute episodes titled Healthy Eating with Daniel Green, The Model Cook and World Dining with Daniel Green, The Model Cook have been broadcast in 6 Asian cities. Both programs premiered exclusively on Li TV, Asia's first High Definition 24-hour Lifestyle TV Channel (www.litvasia.com).
DANIEL GREEN IS THE LEAD PRESENTER/HOST AND ON-AIR CHEF
Since 2004, Daniel is the lead presenter and on-air Chef at EVINE (www.evine.com) (formerly ShopHQ), one of the largest multimedia retailers in the U.S. selling a broad range of exceptional quality products through their home shopping network, the internet and direct mail. EVINE broadcasts live everyday of the year, reaching more than 70 million households in the US.
HEALTHY CUISINE FOR TRANSATLANTIC ROUTE
Since December 1st, 2008, Daniel Green's signature Healthy Meals are served in-flight on all classes of the Royal Dutch Airlines, KLM's transatlantic route. He creates the menu and works closely with the KLM's catering experts, Gate Gourmet, located in Montreal, Canada to serve in-flight meals that are healthy, appealing and tasty for the passengers. And Daniel just accepted BMI International Airline's offer to create their on-board meals.
KITCHEN TAKEOVER CHEF
This is a popular weekly series on KSTP 5 Twin Cities Live. The TCLviewer welcomes Daniel Green into their home where he prepares fun, easy-to-make, tasty, healthy and exotic meals with ingredients found in the everyday kitchen. The program is to help TCL viewers who are stuck in a culinary rut and tired of cooking the same old meals. Daniel puts the fun back into the kitchen and shows how healthy meals can be easy to make and yet tasty. To date, more than 90 episodes has been shot and the series is broadcast on KSTPEyewitness 5, Twin Cities Live, an affiliate network of ABC. (www.twincitieslive.com). The success of this program spearheaded the start of another TV series titled Restaurant Makeover, presented and hosted by Daniel Green, The Model Cook.
ANOTHER FIVE NEW HEALTHY CULINARY BOOKS BY DANIEL GREEN, THE MODEL COOK
Working with world renowned publisher, Marshall Cavendish Asia, Daniel Green authored three new cookbooks under the series titled "Green's Twists" for global markets. The concept, "Green's Twists" stands for healthy, modern, fuss-free recipes and ingredients. The first book, World Dining for Lifefeatured popular dishes from 10 countries; the second, Modern Dining for Life presents foods from top trendy restaurants in the world; the third, Healthy Dining for Life is about a full array of healthy meal ideas that one can indulge at anytime of the day; the fourth, Healthy Hearty Meals shares 35 simple yet satisfying recipes that will guarantee a hearty and fulfilling meal without the extra calories and the fifth, Healthy Meals Under 30 Minutesis about quick yet flavorful meals under 30 minutes.
Two healthy Cookbooks, Modern Dining for Life and Healthy Dining for Life was awarded "The Best TV Celebrity Chef Cookbook" in Singapore by world renowned Gourmand International – Gourmand Cook Book Awards 2010 & 2011. All books are available for sale in all major bookstores worldwide and on www.amazon.com.
January 2014 will be the release of Daniel's 10th cook book, The Paleo Diet, the 1st book on the Paleo plan that has over 100 recipes.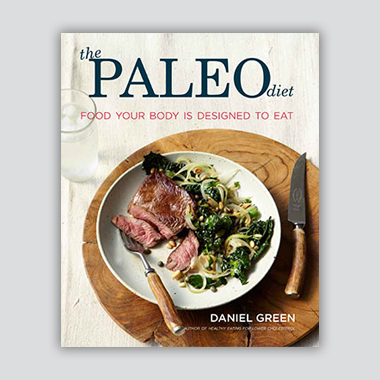 HAVE YOU GOT A PROJECT THAT YOU WOULD LIKE DANIEL TO BE INVOLVED IN?
You can email Daniel: info@televisioncookery.com to arrange a meeting to discuss your ideas and find out how he can help with your project. He looks forward to hearing from you.