I first tasted this staple Korean dish when I was in Seoul and it blew me away. The traditional version does use a lot of soy sauce, which is not strictly a Paleo ingredient. However, a Paleo soy sauce has now been developed so try it and see or use coconut amigos.
Serves 4
1 Asian pear, peeled, cored and sliced into thin strips
Juice of ¹⁄₂ lemon
900g very lean beef (beef tenderloin is best and must be fresh)
3 garlic cloves, finely chopped
2 tablespoons sesame oil
1 tablespoon sesame seeds
3 tablespoons soy sauce or coconut aminos
2 tablespoons raw unrefined honey or maple syrup
2 chicory, leaves separated
A handful of flat-leaf parsley, finely chopped
Tip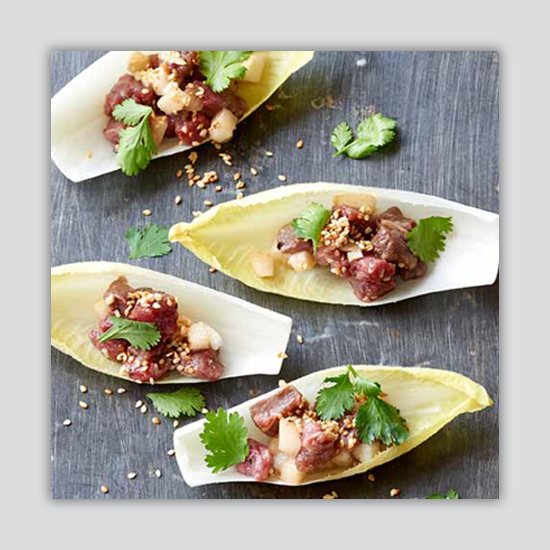 Instructions
1. Place the Asian pear in a small bowl and squeeze over the lemon juice to prevent it from discolouring, then place in the fridge.
2. Cut the beef tenderloin into very small pieces and place in a large bowl. If you find any fat, discard it. Add the garlic, sesame oil, sesame seeds and soy sauce (if using) to the beef and mix well. Add the honey and mix again until thoroughly combined. Cover and refrigerate for at least 20 minutes but for no more than an hour.
3. When ready to serve, add the pear to the beef and mix again. Serve with a few chicory leaves and a scattering of parsley to garnish.