Pork patties with homemade
tomato ketchup
This dish is a great alternative to a traditional meaty cooked breakfast and also makes a great lunch or dinner, served with a nice fresh salad.
Serves 2
Olive oil spray, for frying
A handful of flat-leaf parsley, to garnish
For the tomato ketchup
1 x 400g can tomato sauce
85g tomato paste
60ml white vinegar
1¹⁄₂ tablespoons maple syrup
For the patties
450g lean pork mince
1 egg
1 teaspoon cumin
1 teaspoon dried red pepper
1 tablespoon chopped fresh parsley
1 small white onion, finely chopped
1 garlic clove, crushed
2 tablespoons homemade tomato ketchup (see above)
Tip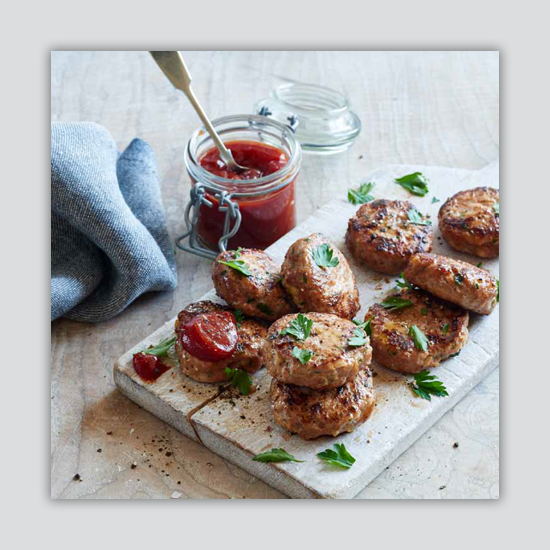 Instructions
1. First make the tomato ketchup: Place all the ingredients in a saucepan and stir to combine. Bring to a boil over a medium heat, then turn down to a simmer, cover, turn off the heat and let stand 5 minutes.
2. Meanwhile, make the patties: Place all the ingredients in a large bowl and use your hands to mix together well. When thoroughly combined, shape the mince into 5cm-wide patties. You should have enough to make a dozen or so.
3. Place a large frying pan over a high heat and lightly spray with oil. When hot, fry the patties for 2?3 minutes on each side until cooked through.
4. Stir the tomato ketchup again and serve with the patties with a little fresh parsley to garnish.