Salmon fish cakes
with Asian dressing

This is one of the recipes that I come back to time and time again. I included it in my very first cookbook, back in 2002, but every time I make the recipe, I refine it a little and this version contains even more flavour.
Serves 4
1 tablespoon olive oil, for frying
150g mixed salad leaves
For the Asian dressing
2¹⁄₂cm fresh ginger, grated
60ml sesame oil
1 tablespoon sesame seeds
Juice of ¹⁄₂ lemon
1 garlic clove, crushed
For the fishcakes
4 x skinless salmon fillets, roughly chopped
1 teaspoon sesame oil
1 tablespoon sesame seeds
1 egg
1 egg white
2¹⁄₂cm fresh ginger, grated
1 red bird's eye chilli, finely sliced
4 spring onions, finely sliced
¹⁄₂ red onion, finely sliced
A handful of fresh coriander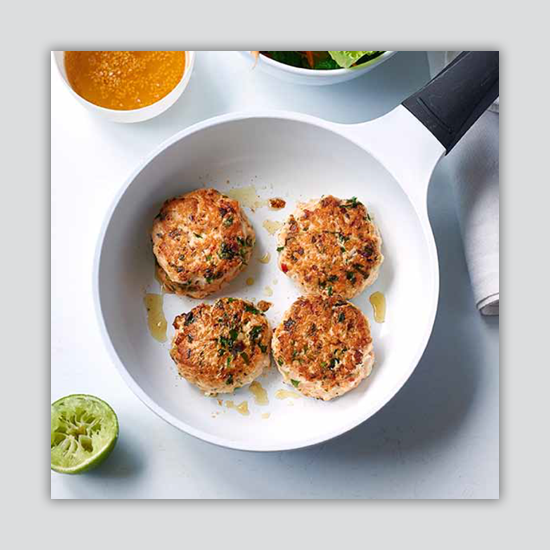 Instructions
1. First make the dressing: Simply place all the ingredients in a bowl and whisk well to combine.
2. Place the salmon, sesame oil, sesame seeds, egg, ginger, chilli, spring onions, red onion and coriander in a food processor and blitz together, making sure you retain a little texture.
3. Divide the fish cake mixture into little patties. On a clean surface, carefully shape into four cakes about 2.5cm thick. Transfer to a plate, cover and chill for 30 minutes (or up to a day).
4. Heat the olive oil in a large, non-stick sauté pan over high heat and cook about 4?5 at a time (don't overcrowd the pan or they won't brown up as they should). Cook for a minute, then reduce the heat a little, turn and cook for another 60-?90 seconds (they are small so will cook quickly). Repeat until all the fish cakes are cooked and serve warm, drizzled with a little Asian dressing, and a mixed leaf salad.