Sushi – avocado and spicy tuna
I love these sushi rolls. They are filling and flavourful and full of everything we love about Japanese cuisine, but leaving out the rice makes them almost carb free too – perfect for a snack or a lunch on the run.
Serves 2
1 avocado, chopped into small cubes
225g fresh tuna, chopped into small cubes
¹⁄₄ red onion, finely chopped
1 tablespoon sesame seeds
1 tablespoon sesame oil
¹⁄₄ red chilli, finely chopped (deseeded too, if you like)
A handful of fresh coriander, chopped
2 nori (seaweed) sheets
1 spring onion, trimmed and sliced lengthways
¹⁄₄ English cucumber, peeled and sliced lengthways into 4
Tip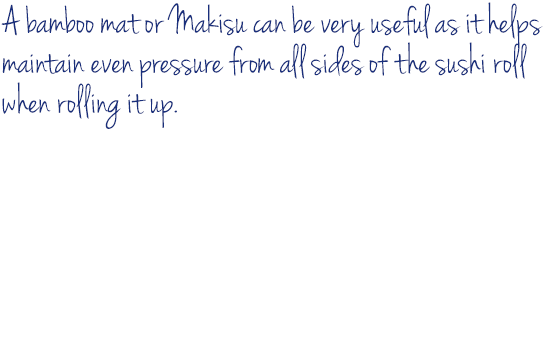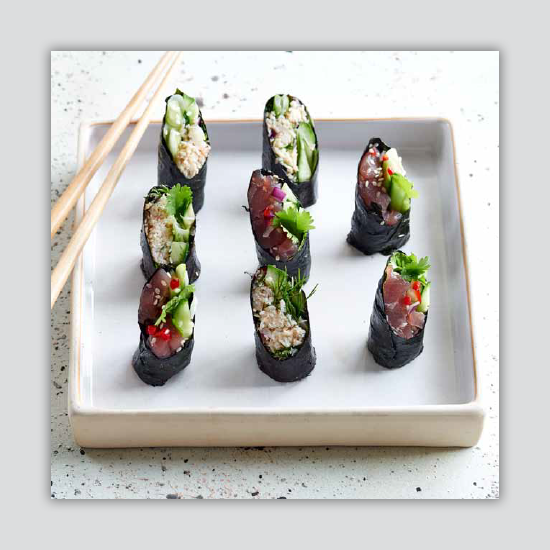 Instructions
1. Place the tuna, red onion, sesame seeds, sesame oil, chilli and coriander in a bowl and mix together.
2. Lay a nori sheet, shiny side down, on the mat and spread half of the tuna mix across the sheet in a thin layer, but leaving the furthest edge clear.
3. Lay the spring onion and cucumber down the middle of each sheet, then use the mat to roll the sushi up, applying gentle pressure to keep the roll tight.
4. When you get to the far edge of the nori, dab it with a little water to seal it up. Trim the ends with a sharp knife, then slice the long roll into half, and then half again. Repeat with the second nori sheet, then serve.